BoJack Horseman
is an
American animated sitcom
created by
Raphael Bob-Waksberg
. The series stars
Will Arnett
as the eponymous character,
BoJack Horseman
.
The first season premiered on August 22, 2014, on Netflix, with a surprise Christmas special premiering on December 19 of the same year.
The show is designed by the cartoonist Lisa Hanawalt, who previously worked with Bob-Waksberg on the webcomic Tip Me Over, Pour Me Out. Netflix renewed the series for a second season which premiered on July 17, 2015.
On the 28th of the same month, Netflix renewed the series for a third season, which premiered on July 22, 2016. On the same day, Netflix renewed the series for a fourth season.
On September 21st, 2017, the series was renewed for a fifth season. The series will be coming to Comedy Central starting on September 26, 2018. [1]
Premise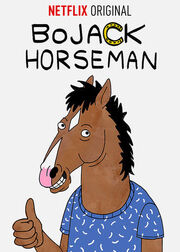 The series takes place in an animated world where anthropomorphic animals and humans live side by side.
BoJack Horseman is a has-been, the formerly popular star of a fictional 90s sitcom titled Horsin' Around, who devises a plan to regain his celebrity relevance with a tell-all autobiography. Ghost-written by BoJack's recent love interest, human Diane Nguyen, he dictates his troubled past expecting she will make him look good.
BoJack's agent and on-again-off-again girlfriend Princess Carolyn is another life issue he must contend with, along with his freeloading roommate Todd Chavez, and his annoying frenemy/arch-rival Mr. Peanutbutter, who aside from starring on a competing 90s TV show with a suspiciously similar storyline, is also Diane's boyfriend (and eventual husband).
Characters
Main
Videos
References