Beyoncé is a female pop singer. She makes an animated cameo as herself in BoJack Horseman.
Background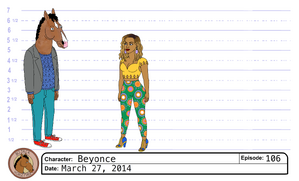 In Our A-Story is a "D" Story BoJack climbs to the roof of a store in downtown Los Angeles and begins throwing money down onto the sidewalk below as a publicity stunt and to distract the public as the HOLLYWOOD "D" is being returned to it's original location.
None of the nearby citizens care about him or the money until Beyoncé slips and falls on the dollar bills. The ensuing media coverage provides a good distraction from the D-carrying helicopter.
She is also briefly mentioned in Later.
Design
Beyoncé is an adult woman with wavy sandy brown hair that falls below the shoulder and olive skin.
She wears a deep burgundy lipstick, yellow halter-style crop top with diamond cut-outs at the bottom and the sleeves, a pair of dark green high-waist Capri leggings with orange, violet, and lilac geometric circles on them and a pair of navy and gold high-heels, and silver rectangular-shaped dangling earrings.
According to the model sheets, she's about 5 1/2 ft. tall.
Trivia